Grade: B
Quest NPC: Bar Manager
Major Domestic Bonus: Military
Minor Domestic Bonus: Peace
Players: 4
Time: 14:55

Strat ~
Defeat the Captain in the North (Appears near player 1's starting point)
Capture all 4 Red Bases at the same time (Will inspire your unit of your timing was perfect, if not an enemy officer will appear)
Defeat 1200 Troops - While K.O.ing 4 Officers will appear, defeat them.
Capture base 5, then bases 6 and 2. An officer will appear, defeat him as well.
Two officers will appear in the south, defeat them.
Rank
Condition
Reward

S

Time 4:51 +

Wind Element x4
Crafting Sphere x4
Feather Amulet x3
Anti-fire element+1 x4
True Vorpal Orb x2

A

Time 4:00 +

-

B

-

-

C

-

-

D

-

-

E

-

-
Video of Quest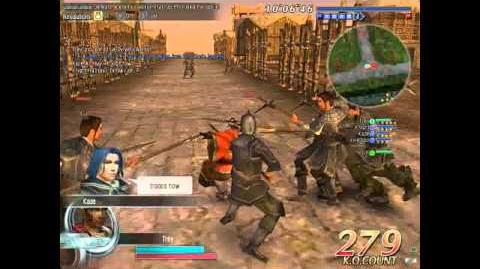 </li> </li>

</li>
Ad blocker interference detected!
Wikia is a free-to-use site that makes money from advertising. We have a modified experience for viewers using ad blockers

Wikia is not accessible if you've made further modifications. Remove the custom ad blocker rule(s) and the page will load as expected.