Furniture used for the Storage of Weapons/Items/Clothes
Edit
Wardrobes
Edit
| | | |
| --- | --- | --- |
| 5 Space Wardrobe | 10 Space Wardrobe | 20 Space Wardrobe |
| | | |
| 50 Space Lavish Wardrobe | 90 Space Expensive Wardrobe | |
| | | |
Wardrobes once placed in your House allow you to hold (depending on the Wardrobe) X amount of EACH type of Gear (example) 5 Space Wardrobe = 5 Head, 5 Body, 5 Hands, 5 Feet & 5 Capes)
| | | |
| --- | --- | --- |
| Storage Chest (Holds 20) | Large Storage Chest (Holds 30) | Large Tool Chest (Holds 50) |
| | | |
Chest Furniture allows you to increase the Max of each item type you can hold from 9 to 20 (Storage) or from 9 to 30 (Tool) you can Only have 1 of these types of Chest in your House.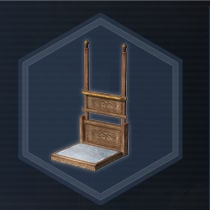 Armories can hold 4 Weapons Maximum. Depending on the Size of your House (see Antiques Dealer or Quarters  for more Information) you can have up to a Maximum of 18 Armories.
Items Shelf
Edit
| | | |
| --- | --- | --- |
| Item Shelf (+5) | Item Shelf 2 (+10) | Item Shelf 3 (+20) unreleased |
| | | |
Item Shelfs will allow you to carry an Additional 5 types of Items, you may have a Maximum of 6 in your House, And a maximum of four Item Shelf 2's.
Ad blocker interference detected!
Wikia is a free-to-use site that makes money from advertising. We have a modified experience for viewers using ad blockers

Wikia is not accessible if you've made further modifications. Remove the custom ad blocker rule(s) and the page will load as expected.