Grade: C
Quest NPC: Bar Manager
Major Domestic Bonus: Technology
Minor Domestic Bonus: Distribution
Players: 1
'Time: '''14:55
Strat ~
Use a Lieutenant that has strong Attack and good Musou for this Quest. Simply Flask up your LT and let them do all the Work. You have to take 3 bases to finish the Quest. (using Map above)
1. 4 Captain's base
2. Officer Base
3. Tower Base
I suggest taking the bases in the above order to avoid to much back tracking.
for S Rank you can kill no more then 5 so be careful.
Rank
Condition
Reward
S
0-5 Kills
Wind element x5
Tree Peony seed x2
Elixir Remedy Recipe
A
6 - 20 Kills
Tortoise Amulet x4
Rain Amulet x1
B
21 - 30 Kills
Tortoise Amulet x3
C
31 - 40 Kills
Tortoise Amulet x2
D
41 - 50 Kills

Tortoise Amulet x1 100 Gold

E
51 - 99 Kills
450 Gold
Killing OVER 100 = Quest failed
Video
Video Of Quest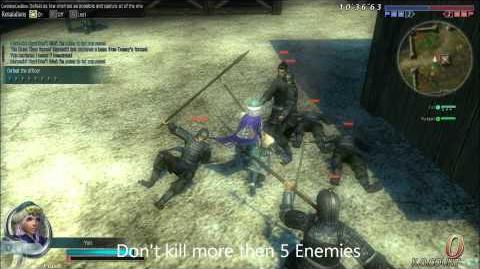 The reason i run around the troops is to keep them in 1 spot for the LT to kill. if you stand still the Troops will shuffle around you.
Ad blocker interference detected!
Wikia is a free-to-use site that makes money from advertising. We have a modified experience for viewers using ad blockers

Wikia is not accessible if you've made further modifications. Remove the custom ad blocker rule(s) and the page will load as expected.